That sahur I had only ikan bilis, the dendeng batokok had found no place in my tummy. Then I went to sleep, to be waken up at 10PM. Lazying up in bed, I got up when it was Dzuhur adzan. Then I do work which I intended to get done here in Bandung, hence the title Bandung (So Called) Business Retreat.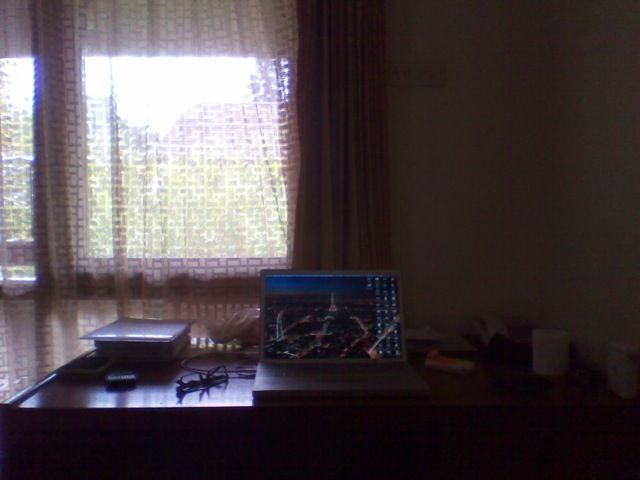 "Ta' gendong, ke mana-mana…" is not a only a catchy lyrics by the late great Mbah Surip. I experienced it firsthand with my Mercedes-Benz W123 300D. After a lot of pedal to the metal on my drive to Bandung, the pistons has lost its power and the next afternoon, just as I was planning to go find something to eat for iftar (buka puasa) it acted up. Yes, I know it was my fault to take this baby with me to Bandung, lesson learned is never see everything face value. It wouldn't start. I called Pak Hartono, my mechanic from Jakarta who know my care better than me. He said that maybe it was the vacuum valve of the injector. Many manual suction later, I gave up.
I had my iftar at the Front Office of Wisma Unpar, some gorengan from yesterday and a cup of hot tea. Then I hiked the hills of Ciumbuleuit again to seek for angkot, went downhill and got some dinner at old Sop Buntut resto I knew in my college years, in front of Cipaganti gas station. Apparently it's called Dahapati restaurant, and now has occupied the whole building (back then it was that small pavilion in the corner.) Ordered a serving of Sop Buntut, only to finished half portion, other half wrapped to go. I still had that dendeng batokok as a side dish for sahur. I called Pak Hartono here to get connected to Pak Suparman, a colleague of his in Bandung, said Pak Parman will send his mechanic. Given the mechanic's number, I called him. They all don't master diesel engine, let alone it is a diesel Mercedez Tiger.
With angkot Cicaheum-Ciroyom I went to Gandok intersection and I hailed an ojek. Made a quick stop to Yomart (kind of AlfaMart but from Yogya group) to withdraw some cash from BCA ATM. After I arrived in my room I tried to continue work from this morning, but it was not a focused work. So I was demotivated and rest my head on the pillow, reading books & magazines I brought from Jakarta.
At sahur time I eat my Sahur, Sop Buntut and dendeng batokok while observing Waktunya Kita Sahut (Trans TV)  and then get back to sleep. Expecting a mechanic will come at 9AM in the morning…
…which nobody came. After I checked out of Wisma Unpar and load my things on the car (with scenario of "once car is fixed, straight to Jakarta,) I called back frantically to Pak Hartono ask Tohir (my usual mechanic) to go to Bandung for storing, but it seems so unseemly. Then I got this Asep from ABC Banceuy, hebrought along Pak Anang. They took a shot at fixing my car, for maybe 3 hours, only to give up in the end. He then gives me a number of Pak Bana, said he used to work for Star Motor, and the man to go for diesel. Called him but no answer. I also got a garage shop (Pak Ade) number from Tan Tik Lam/Lemmy, my college senior. Initially wanted to bring this baby to Jakarta with tow truck, contacted LCC Bandung Towing to tow my car to Jakarta, only to reroute to Pak Ade's garage because it's too darn expensive. Then it was cancelled altogether.
I then hop on angkot to iftar (buka puasa) at first I was inspired from Twitter to go to Warung Ngebul (belongs to Valiant Budi Yogi,) I saw this joint when I was having dinner with Roland Sat night. Got off angkot at Simpang Dago and went through that chaotic hustle bustle of a short strip market. All these time I've never explored this side of Bandung. from the lines of stores alongside sidewalk, then on next layer is sidewalk shops, then tables selling ta'jil, then motorcycle parking. Decided to have iftar at this nasi goreng Padang asli Bukit Tinggi, bought kolak, jamur goreng and cireng isi for ta'jil. I knew it was redundant. The nasi goreng was awful. But it was a great experience to buka puasa in Simpang Dago market. I intended to take a second go for a Pak Ade's mechanic to come fix my car tomorrow at 9AM….
…which nobody came again. Until 12PM, then I hailed an ojek to go to KPAD Complex, Geger Kalong to fetch the darn mechanic from Pak Ade's garage. Pak Ade's staff doesn't know any diesel, he can only suggested… Pak Anang and Pak Bana. Small town. Then I called Pak Bana, this time it went through. On the phone Pak Bana seems trustworthy. He promised an hour time…
…which was spot on. He took a look at my car, checking just to say to me that it's lost its compression. Maybe all those pedal to the metal and long uphill rout on Padaleunyi. It's unixeable without having to do "turun mesin." So, tow truck it is. Called back to LCC to order tow truck, the "gendong" one where your car is loaded on top of the truck.
The two truck came at 4, then we load the baby onto the truck. Strap it tight, then after I jumped in to my car, we departed from Wisma Unpar, Jakarta bound. It's like I was riding an odong-odong. But it's way better that to sit in the truck's cabin, the 3 of us. Here I can read, eat (after iftar) etc.
The truck made a stop at rest area in Cipularang. I took the chance to buy food for iftar (buka puasa) and not forgetting the tow truck guys, I bought for them too.
I moved to front before exiting Pondok Indah inner ring road to show direction. 10PM we finally came to my house. Unload and pushed the car to its place, I crashed in my pad. Oh, Victoria's Secret on TV. 🙂