Out of necessities of getting things out of my system, I've decided to have a weekend getaway to Bandung. The purpose is to get out of the circle into seclusive environment, contemplate on things and hopefully have a clean new perspectives on things. Hey how many times I mentioned things.) And by things, I thought business related things. So I name this getaway a 'Business Retreat.'
Bandung bound for business retreat.

— Farry Aprianto (@farry) August 4, 2012

Check things regarding the machinery of my W123 300D, yeah it's been a long time since I drive to Bandung or out-of-town for that matter. Prepared on business related documents, books & filing system. That Saturday afternoon 2PM; intentionally planned to depart at 9AM!; Bandung here I go.
My old car apparently too old to conquer the Cipularang Toll Highway. Top speed is asymptote to 100km/h, in reverse gear for a km, engine can not take uphill track. This old self also maybe too old for a roadtrip, mistakenly took Cikampek toll gate exit, turned to enter toll highway again, missed intersection to Bandung. Yeah should have focused on the road more than to Twitter stream on my mobile. Yeah, one of the result of frequent Twitter checking is to meetup at Dinner time with Roland Silalahi, my 2 year senior from college and former housemate.
Initially planned to attend Hackerspace Bandung Buka Puasa Gathering event, but I managed to enter the city at 5 PM, let alone not settled yet at Wisma Unpar, I tweeted to cancel attending it. In my mind I was just thinking how to secure ta'jil and food for berbuka (iftar) while on my way to the Wisma. Parked my car on Ciumbuleuit near Gandok, by foot I bought infamous nanas/tape goreng, batagor and starfruit juice for berbuka. Then I reached Wisma Unpar, same old neat and secluded establishment, perfect for contemplation of things. Things, yes things. I opened Capricorn standard room upstair just in time to berbuka.
Took a hot shower, take short nap, next thing I know it's 8pm, time for my meetup with Roland. The place that we agreed upon to meet was Tizi's, also has been around since our college days. Roland was noticeably gained weight, seems happier and more settled. Far cry from his old temper tantrum Batak upbringing the one I know from back then.
Discussion varies from catching up of professional life, a pitch for web development of his office, to past love life and current life. Mine bachelor life. His married life. To my surprised he gave #jleb advises, that seems out of place coming out from him the one I knew. Key summary He said was that when we get married, we gain correct perspective of life and become more responsible. to some maybe it's no brainer rhetoric but to me it was an enlightenment to hear such advice.
Key summary He said was that when we get married, we gain correct perspective of life and become more responsible.
The old restaurant with old charm coming from old waiters wearing (off-)white uniform in Sundanese dialect, serving slightly burnt bratwurst. Old soundtrack (Follow You Follow Me of Genesis anyone?) laid down prefect moment for these words of wisdom seeps into my being. After dropping him in front of his home not far away from Simpang Dago/Tizi's, I stopped by Pondok Kapau near the Simpang Dago, to buy food for sahur, suggested ikan bilis & dendeng batokok.
Some additional shopping at nondescript warung, moment later I took off, to enjoy Bandung and recollect days gone by when I was roaming these very streets, far less chaotic that it is right now. And cruising in my car at midnight is fun in Bandung, I can't imagine the same trip during daylight. Made short stop to Kimia Farma drugstore, I head to the Wisma. Do some blogging, qiyamul layl (night prayer) and stratight up nasi ikan bilis for sahur. After Subuh I crashed.
@hydragyrum84 tau gitu td gw mampir, td gw muter2 sampe Dago/Dipatiukur/Gasibu/Trunojoyo/Riau/Dago/Siliwangi/Ciumbuleuit. Dah pewe nih. 🙂

— Farry Aprianto (@farry) August 4, 2012
I woke up Sunday 5 Aug 2012 at 11pm. Took a bath and went to the Front Office to extend my stay for a day. Then I "do some work" between distraction of web surfing and occasional procrastination tweets. After finding out that my buka bersama appointment was cancelled (I wont mention name, you know who you are) I suddenly became free this buka puasa time. Then after a short nap, it was 5pm. Apparently my car wont start up because of some injector vacuum problems, I hiked hills of Ciumbuleuit to catch an angkot and went to Sop Buntut joint that was around since the 90s. Located in front of Cipaganti gas station. Apparently it's now taking place on the whole building now. Back then it only occupies the small pavilion. Still tastes great. Finished just half portion and take away the rest for sahur.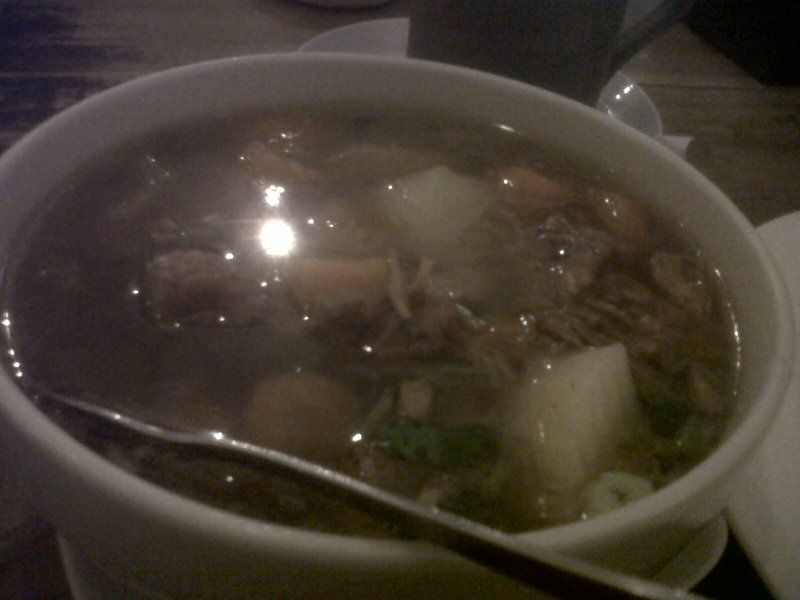 Then took Cicaheum-Ciroyom angkot to Gandok intersection, Made a short visit to Yogya midi market in front of Unpar for kaching from BCA ATM. Then took ojek back to the Wisma. Done some "work" just to come to some conclusions:
The word "Business Retreat" doesn't come together. Either you're in "Business" or you have "Retreat." Only managed to do work management stuff. Let's do the heavy works on week days in the office.
Come to my senses that I was having this weekend getaway if for soul searching. I thought it was to get things done in business. Apparently it's not. Impromptu meetup and deep discussion about life with Roland is serendipitously feed my soul more. It was what I need. What was it? Below.
My next move to make sense of ALL things (professional, personal, etc) is to move on to next logical (but much often avoided) step: getting married and start a family. Make my own life path. Let go of everything else I thought I was obliged to solve. I don't have to solve everything else, just my problem. Then to paraphrase Radiohead: jigsaw pieces will falls into its places. Everything is in right places. Everything will come to perspective. Haven't went this path, I sensed that I am there already. So, future spouse, take heed!
Not everything have to go according to plan. Just trust God's plan (of things happening.) For instance my car wouldn't start (I already contacted Bandung colleague of Pak Hartono; my mechanic in Jakarta) it doesn't mean everything falls apart. There must be a lesson somewhere, or something good must be in store for me along the way. Just 'combine' your plan with God's plan. Then you're good to go. Unable to combine them (and insist that MY plan; notice the capital out of ego; is far better than God's plan) makes you restless, let alone what goes down doesn't go with it.
Free Will from Rush's Permanent waves (1980) played on iTunes. Serendipitously. I try to quote the lyrics and contemplate:
"You can choose a ready guide in some celestial voice
If you choose not to decide, you still have made a choice
You can choose from phantom fears and kindness that can kill
I will choose a path that's clear
I will choose freewill"
Listen deep to what your heart says, it's celestial voice. For everything that happen is decided. To connect with previous point: it's both you and God that made the decision. So, decide consciously. The phantom (those voice that defocus from your celestial voice) will plant fear that can kill. Kindness you ask? It's the phantom's kindness. Choose the path that's clear, derives from that celestial inner voice, choose free will. Consciously.
Tomorrow I will have meeting regarding Roland's office website development proposal discussion, and catering to the Bandung mechanic house call. Working with God on life plan. From this very Capricorn standard room of Wisma Unpar to my grave.
P.s.: Might have additional paragraphs on this journal entry regarding how it will turn out tomorrow, and key takes of life lessons unfolding.